Fat-Burning Guacamole with Jicama Fries
Here is my recipe for Magical Guacamole. It is delicious, super nutritious and excellent for weight loss.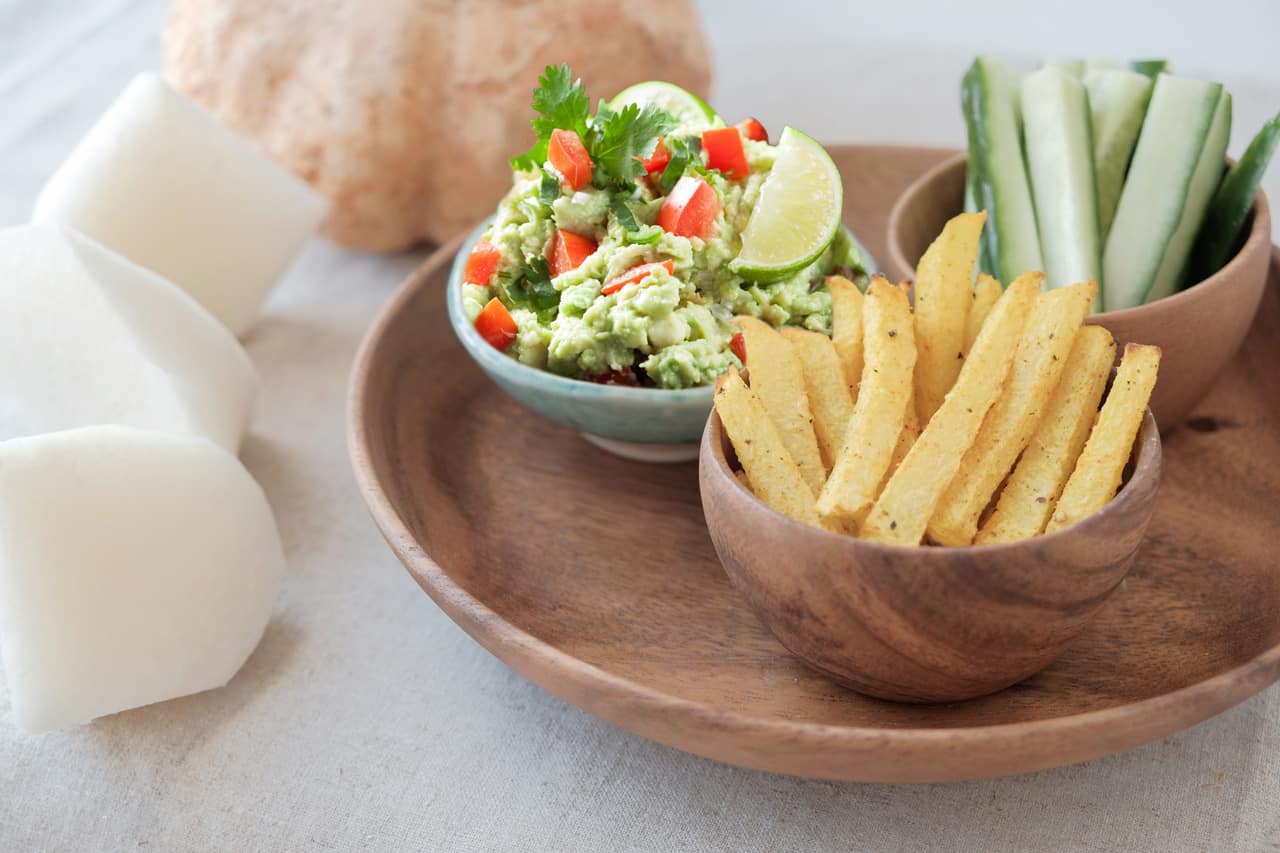 INGREDIENTS:
| | | |
| --- | --- | --- |
| • | 2 | Garlic cloves, peeled |
| • | 1 | Roma tomato – organic, chopped |
| • | 1 Tbsp. | Onion, chopped |
| • | ¼ Cup | Cilantro – fresh, organic, chopped |
| • | 1/2-1 | Serrano chile, chopped |
| • | 1 | Avocado |
| • |  1-2 | Limes |
| • | ¼ tsp. | Sea salt |
| • | dash | Turmeric powder |
| • | dash | Celery salt |
| • | dash | Garlic powder |
INSTRUCTIONS:
In a small pan, roast garlic on both sides. When it is roasted and getting black, chop it and set aside.
Add the following to the molcajete (the Mexican version of a Mortar and pestle):  chopped garlic, chopped onions, chopped serrano peppers. Use the grinder tool to grind these ingredients so that you bring out the essential oils and flavors. You can get a molcajete on Amazon: https://amzn.to/37Z4WhN
Add the chopped cilantro and grind.
Peel the avocado and cut it into big chunks. Add it to the molcajete and use the grinding tool to make it as smooth or chunky as you desire. If you do not have a molcajete, then use a potato masher.
Add lime, salt, and spices to the mashed avocado and mix well using a spatula.
Add the chopped tomatoes and mix using the spatula.
Taste for the season.
Serve with veggies (celery, zucchini, carrots, radishes, jicama, cucumbers) or Jicama Fries.
If you want it to be a complete meal, add some greens, some healthy protein, plant-based, or animal. Plant-based can be nuts or seeds such as pumpkin seeds. Animal-based can be organic and free-range chicken, wild fish, or organic and grass-fed meat.
GADGETS USED TO MAKE THIS RECIPE:
GADGETS USED: Molcajete: https://amzn.to/37Z4WhN
OXO Steel Salad Spinner: https://amzn.to/2ZcdeP4​
Small Cast Iron Skillet: https://amzn.to/2Nn1S8n​
Kuhn Rikon Garlic Roller: https://amzn.to/3qiH4gJ​
Silicone spatula: https://amzn.to/2OBhRjS​
🧑‍🍳 MY FAVORITE COOKING GADGETS: https://www.amazon.com/shop/flacaforever​
🎥 WATCH ME COOK ON "HOME & FAMILY": https://bit.ly/3elCxET​
🌮 BUY MY BOOK: http://www.themexicanfooddiet.com​
🔗 VISIT MY WEBSITE: https://flacaforever.com
THRIVE MARKET INGREDIENTS
http://go.thrv.me/SH2HX
You can see me preparing it on ABC News in Chicago. Click on the video below.
Or you can get the recipes collection from the book by CLICKING HERE to get 46 delicious and nutritious Mexican Food Recipes to enjoy with the whole family, before, during and after any detox or weight loss programs. (Only in digital format / PDF).